November 5,2011
Neuropathy has been found to be nearly seven times more prevalent in Parkinson's Disease.
Neuropathy is the malfunction of nerves throughout the body. Neuropathy can cause a
pins-and-needles sensation, numbness, burning pain, loss of vibration sense, and a loss of position sense, which is not knowing where the arms and legs are. Walking and even standing can become unsteady. The effects of neuropathy can progress to far more widespread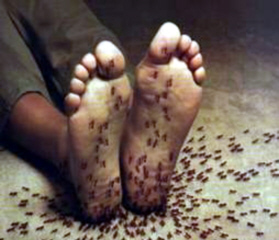 and serious symptoms. For more information go to
Polyneuropathy
. The researchers found that Vitamin B12 deficiency was a more common cause of neuropathy. Vitamin B12 levels were found to be significantly lower in people with Parkinson's Disease. They believed that the Vitamin B12 deficiency in Parkinson's Disease could be related to the effect of long term use of L-dopa. They consequently suggested that both Vitamin B and Vitamin B12 monitoring and supplementation, as well as serial clinical assessment for neuropathy, may be advisable in people with Parkinson's Disease..