February 13, 2016
On the front door of his Michigan home hangs a wreath streaked with golds and reds, matching the leaves on the changing trees surrounding it.
Inside, the man who tore through Octobers past by smashing two of the most dramatic World Series home runs of our time answers the doorbell by yanking open the door and practically leaping into view, devilish grin, twinkling eyes, greeting a visitor as if teasing a trick-or-treater.
Except, this has nothing to do with Halloween.
It is a brisk autumn evening, and Kirk Gibson is in a place he never dreamed of being, waging a battle he never planned on fighting and surrounded not by teammates and postseason scouting reports, but by a loving family and a crack team of doctors and therapists.
In April, Gibson, 58, announced he has Parkinson's disease.
With his energetic greeting, he is demonstrating one of his voice therapy exercises.
It sounds like a singer warming up his voice by working scales pre-concert. Except, the stakes are different. Dramatically different.
"I'm not going to lie," Gibson says. "It was like a kick in the nuts. Initially, it's a shock. And then you've got to tell your family, your kids, and you start looking into it. And you don't know how they're going to react, and you don't want to let them down.
Lenny Ignelzi/Associated Press
"It's not a death sentence. It doesn't have to be a death sentence. So you start looking at a course of action, and you have to implement it.
"I just took it with great vigor, I guess you could say. I wanted to do it, I wanted to do it right, I wanted to do it well, and I wanted to attack what I was up against.
"I learned to hit a curveball. At one time, I learned how to hit a screwball. But I had to really screwball this thing. Because it's different.
"It's a new normal for me."
As ever, he is living his life pedal to the metal. He is attacking Parkinson's as if ripping into that Dennis Eckersley backdoor slider in Game 1 of the 1988 World Series in Dodger Stadium. Or the Goose Gossage fastball in Game 5 of the 1984 World Series in Tiger Stadium.
October. Scene of some of his greatest triumphs.
The way he figures it, he's got a few more fist pumps in store.
On the back door for most of the past three weeks a sign has been taped to the glass: "BIG and LOUD."
That this man would have to be reminded to do anything big or loud at one time would have been unthinkable. Always, his was among the biggest personalities in a clubhouse. One of the loudest voices on the field.
But Parkinson's disease steals its way into your brain, affecting the central nervous system and, in turn, motor skills and nonmotor skills alike. Cells that produce an organic chemical called dopamine begin to die off, and the effects manifest themselves in a variety of ways. Slurred speech. Rigidity. Slowness of movement that can make even walking difficult at times, affecting one's gait. Shaking.
Initially, it often can be controlled with medication. Eventually, as the disease progresses, patients hit a wall with their medication. The dosage needs to be increased gradually, but then the side effects worsen. There reaches a point where increased medication brings diminishing returns.
One of the most notable challenges associated with the disease is called dyskinesia, which is a side effect that often becomes evident in Parkinson's patients who have been on a medication called levodopa for a prolonged period of time. Dyskinesia is a condition with severe movement disorders caused by involuntary muscle movements.
Eventually, deep brain stimulation becomes an option for patients who have reached a critical point and with whom doctors are having a difficult time managing medication.
Gibson, according to his neurologist, Dr. Ashok Sriram, has young-onset Parkinson's disease. It is attacking the left side of his body, and it is still in the very early stages.
"We need a crystal ball to tell [his future]," Sriram says. "People progress differently. But in general, we know people with Parkinson's, the disease progresses slowly. We know that part.
"The reality is, it is a progressive condition and things are bound to get worse. How soon, we don't know. But people who take it as a challenge, take the bull by the horns, take charge to make sure they are in control…those people do very well. They really do very well.
"I have a feeling Kirk is going to be one of those people with slow progression because of the intensity of his exercises."
One of the first things the specialists did with Gibson upon his diagnosis in April, after settling on his medication, was set him up with the BIG and LOUD physical therapy programs that are common among Parkinson's patients. They call for sweeping, dramatic gestures with your arms and legs, and a concentrated effort to project your voice. Parkinson's naturally stifles both, so essentially you retrain yourself. Big. Loud.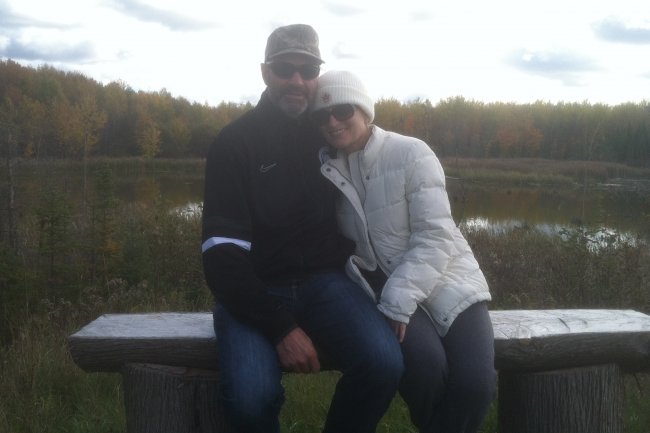 On the spot, in the moment, even on a quiet evening with only Kirk and JoAnn here on the couch, it is difficult to think.
"Snake," I say tentatively. "Wait, that's a reptile."
"We'll count it," Gibson barks. "Keep going."
"Sloth," I continue, eyes closed, arms out, rotating. "Saber-toothed tiger."
Photo courtesy of Kirk Gibson
"He's going good," JoAnn says.
"But he's not," Kirk says, telling me to stop, and explaining why I'm not: "For me, it's a cognitive exercise. When you have Parkinson's, it's much tougher. You started thinking and, you know, you stopped moving your arms a couple of times.
"They give you various tests, and then they give you a rank on it. They do all kinds of things. But when you're in there the first day and you've got Parkinson's and you're all freaked out and they ask you a question like that, it's a bitch. I think I got two or three."
"
So then," JoAnn says, picking up the story. "After the first time he did that, when he went home and he knew he had to go back in two months and the guy was going to retest him…"
"I studied the alphabet," Kirk says, grinning wildly. "Animals."
"Yeah, he just started reeling them off," JoAnn says.
"But that's not good," Kirk says, laughing. "They're giving you a test for a reason. It's just me f–king around, basically."
"The doctor was impressed," JoAnn says.
"He said, 'You've been studying!'" Kirk says.
Damn right Gibson had been—and is—studying. He is attacking "Parky's"—yes, he sometimes refers to it as if it is a friendly adversary—with the same competitive drive that fueled 6,656 big league plate appearances, 255 career homers, a career .352 on-base percentage and two World Series rings despite the fact that he played only one year of baseball at Michigan State.
"What I try to do is gather a team of guys together, talk to people all over," he says of the doctors and specialists who are his new teammates. "There's nothing out there you can unequivocally say will stop the progression, or cure it, right now. They're close."
He's met with folks from the Michael J. Fox Foundation on more than one occasion, and he plans to attend their annual gala in New York in November. His mind hungers for information. His spirit still thirsts for competition.
Lea and Kerri learned that as soon as his therapy began in April.
"They were really, I don't want to say in my face, but they realized what I expected to do," Gibson says. "How I've approached all of my endeavors through life, I approached that. I took it as a challenge.
"But when I was being foolish, I felt like it was Sparky all over again. They were teaching me the fundamentals."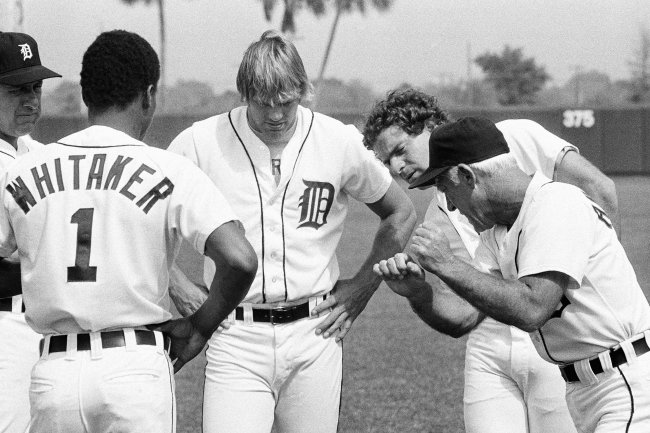 Early in his baseball career, young and brash, Gibson clashed with Sparky Anderson, the legendary, old-school Tigers manager. Both men were competitive, stubborn and unrelenting, resulting in, as Gibson says, "some tough-ass times."
By the end of their run together, highlighted by that '84 title, they had reached a destination that neither had seen coming. In a frame in Gibson's office today, there is a handwritten letter from the late manager sent when both men were older and wiser.
"It basically says, 'I just want you to know, though you were a challenge, the memories that we made together were unforgettable,'" Gibson says. "And his favorite part of managing all those years were those type of memories where he built a relationship."
Teamwork. Though Gibson initially came at things differently than Sparky, he ended up in the same place.
You bet those lessons learned on the baseball field and beyond are being employed in his current battle.
"My deal is, I want to find something not only for my benefit, but for everybody's benefit," Gibson says. "I want to try to make a difference. I see it the way you look at a successful team. There are certain components, and really the top component is that they're pulling for each other, they want to succeed, and they don't care who gets the credit. Right?"
Here, he tells a story about 1988, his iconic home run, the underdog Dodgers and him winning the National League MVP award while practically pulling his team by its throat to the NL West title.
"When I won the MVP, I lived north of here in the boondocks, and we probably had 60 media and friends there," he says. "We had a little press conference and I hated it. It was all about me and the MVP, and I was talking about myself and I hated it.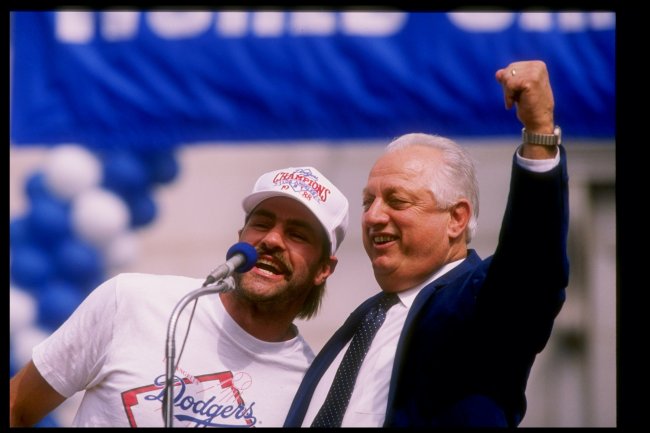 "
When we won the World Series, we had a parade both times. That's over a million people. And that is fun, when you can influence that many people in a positive direction.
"When you think of the things you've done athletically, or the major things you've done in your life, what were the things that made you feel happy, like you've accomplished something? It's when you've sacrificed for a cause.
"That's kind of where I am now as far as getting involved in how to make people, first of all, know how to identify it, where to go, how to make it more efficient, how to make it cheaper and, most of all, find a cure."
It is why he has decided to take this fight public, and why he gave his doctor the green light to talk for this story.
And he is doing it all in his own inimitable way.
"I call him the Rammer because his name is so f–ked up to say," Gibson says of Sriram, grinning. "I told him, 'Now you're the Rammer. I'm not going to say your whole name anymore.'"
Over the telephone, the neurologist laughs. Hard.
"Yes," Sriram says. "And by the way, no one else calls me that."
When JoAnn walks upstairs for a bit to pack for a weekend getaway with a friend, Kirk lowers his voice. And, just for an instant, it catches with emotion.
"She's been unreal," he says. "She's a rock. Sweeter than sweet. She is such a good person as a mother and leader of our family."
Kirk and JoAnn have four grown children, Colleen, Kirk, Kevin and Cameron. It takes a lot to keep a baseball family together, and between them, Kirk's mother (his father passed away several years ago) and JoAnn's parents and siblings, there is even more heavy lifting when something as insidious as Parkinson's comes calling.
"It's been an interesting competition this summer," Gibson says.
He returned to the Tigers television booth in July following the three-month absence that gave him a chance at therapy and to regain his balance.
No, you wouldn't exactly wish for a summer like this. But that doesn't mean it hasn't been filled with some very special moments. Sometimes life calls a timeout so you can appreciate the little things. And you're reminded, they're not so little after all.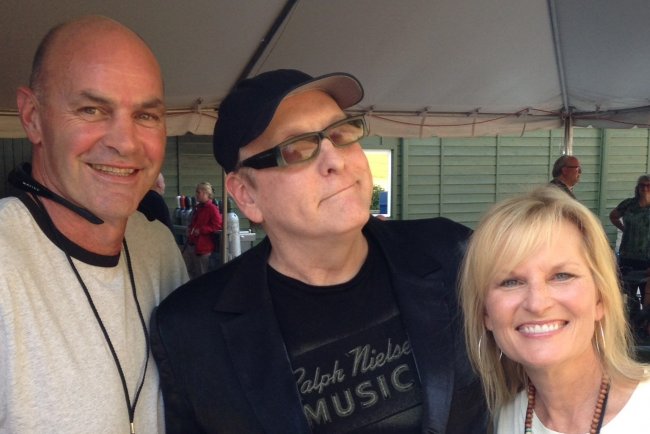 Photo courtesy of Kirk Gibson
So, without a manager's job in the spring, there were family trips to watch son Kevin play hockey for Wisconsin-Stevens Point (jersey No. 23, of course). With extra time in April and May, Kirk and JoAnn saw several of Cam's baseball games at Michigan State. And in Kirk's words, they've had an "unreal concert season" seeing, among other acts, the Rolling Stones, Cheap Trick, the J. Geils Band, Kid Rock, Alice Cooper, the Foo Fighters, Brian Wilson, Rodriguez, Bob Seger and Van Halen.
In June, the Tigers drafted Cam, 21, in the fifth round, a moment that left his mother shedding tears of joy and his proud father video-recording the entire scene.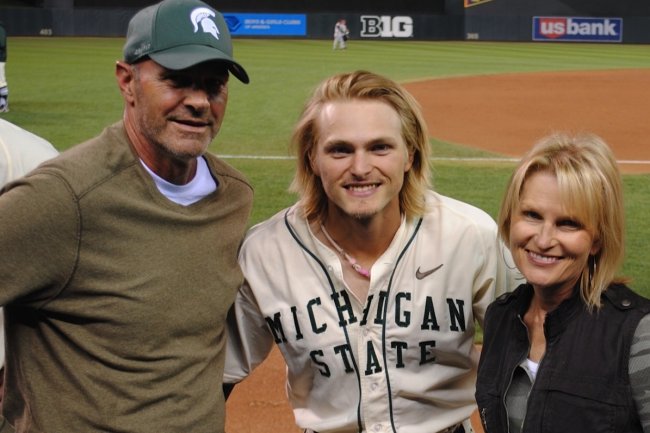 Photo courtesy of Kirk Gibson
"Give me a hug," an ecstatic Cam demands of his father, walking straight toward the video camera. "Give me a damn hug!"
Oh, have there ever been hugs. Real and virtual. The outpouring of concern from family, friends and even those he barely knows in baseball has touched him in ways he didn't know he could be touched. Among the texts he's received, so many were unexpected, like this one from a St. Louis Cardinals outfielder: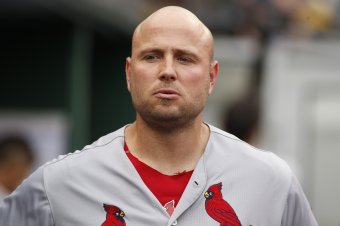 Justin K. Aller/Getty Images
H
ey Gibby, it's Matt Holliday. I just wanted to pass along my admiration and support for you. I've always tried to play hard and tough like you did. I'm praying for your fight with Parkinson's. With much respect and love, Matt.
The response Gibson sent Holliday:
Thanks for your kind words. It's the only way to be. I'm going to kick ass and enjoy watching you.
"He's battling," Wells, the former pitcher and Gibson's close friend, says. "He's a tough son of a bitch. There's nothing that man can't conquer. He's got a very strong mind, a very strong will."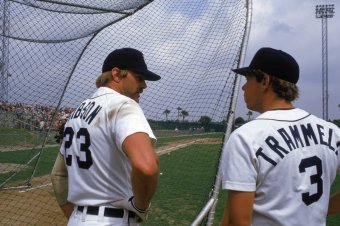 Andrew D. Bernstein/Getty Images
"He is in the best care, and he'll have to be on the medication for the rest of his life," says Alan Trammell, Gibson's old Tigers teammate and another close friend. "The best compliment I can tell you is, he seems normal. It seems like he's going to live a normal, productive life. He's probably not out of the woods, but he seems fine."
Academy Award-winning actor J.K. Simmons, a Michigan native, was a guest in the Tigers broadcast booth on Opening Day, and his was among the many other texts that poured in after Gibson's announcement on April 28 with a statement he wrote himself. Because he wanted the public to hear it in his own voice.
"There are a lot of nice things that have happened," JoAnn says. "We were walking around last week. We've lived here for a few years but we don't know a lot of people here. A man, maybe our age, rode up on his bike while we were walking. He recognized Kirk and stopped for just a minute of local neighborhood chitty-chat stuff, and then he said 'See ya' and started pedaling away.
"And he got maybe half a house up and turned around and said, 'I'm praying for you.' And we didn't even talk about that. He just felt like he wanted to get that in there.
And in August, a couple of television analysts bumped into each other in a Comerica Park hallway when the Red Sox were playing in Detroit: Gibson and Eckersley.
"We had a great talk," Gibson says. "There are things you want to make sure are right, and my thing was when people talk about that home run, I feel like sometimes they kind of overdo what I did and they undermine what Dennis did."
That World Series night in 1988, Gibson was so hobbled by right hamstring and left knee injuries that he wasn't even on the Dodger Stadium field for introductions before Game 1. He wasn't supposed to play. But he sent word late to manager Tommy Lasorda that he had one at-bat in him, and up he stepped in the ninth with two out, a man on and the Dodgers trailing 4-3.
When Eckersley quickly threw two strikes, it looked like a mismatch. But Gibson battled to a full count and then, on the eighth pitch of the at-bat, remembering advance scout Mel Didier's report that Eck liked to throw his backdoor slider in this situation, lightning struck. Gibson sent one of the most famous home runs in Dodgers history screaming through the evening into the right field pavilion, a game-winner that launched Los Angeles toward a thrilling upset.
"In a year that has been so improbable," Vin Scully said so poetically on national television, "the impossible has happened!"
It was his only at-bat in that World Series.
Time passes and lives change. As the baseball drought continues in Los Angeles—the Dodgers have not played in a World Series since 1988—Gibson's epic feat has grown to mythic proportions.
"That strong body," Lasorda says. "That's the thing you think about. God almighty."
Eckersley was enshrined in the Baseball Hall of Fame in 2004. Lasorda, in 1997. Each will remain inextricably linked with Gibson's force of nature willpower for as long as there is a World Series.
Gibson still owns a cassette tape of the Dodgers' radio broadcast that night with the late Don Drysdale on the call. Sometimes, when he's having a rough day, he still listens to it.
"You get embarrassed, because you want to be humble," he says. "But at the same time, I'll listen to that s–t any day. You know? It certainly doesn't make me feel sad.
"You've got to lift yourself up. You've gotta do it."
Right now, in that regard, he will use every weapon he has at his disposal. There is no telling what lies ahead, so he will do what he's done for most of his life: lean on teammates like the Rammer and charge full speed ahead into the great unknown.
"One thing about Parkinson's is, every patient is going to be different," Sriram says. "Every person with Parkinson's is like in their own little boats at their own speed.
"Kirk, even though he may have had the symptoms for a long time, he's responded very well. I wouldn't say he's 100 percent, but he's 90 percent better than when I met him in the clinic."
Much as he loves his television work, Gibson absolutely would leap at the chance to climb back into a dugout, under the right circumstances, and help lead another group of young men to another set of unimagined heights.
"You know, I really miss the guys," he says. "I mean, I have a bucket list, too. Would I like to win another World Series?
"Come on, I haven't changed that much."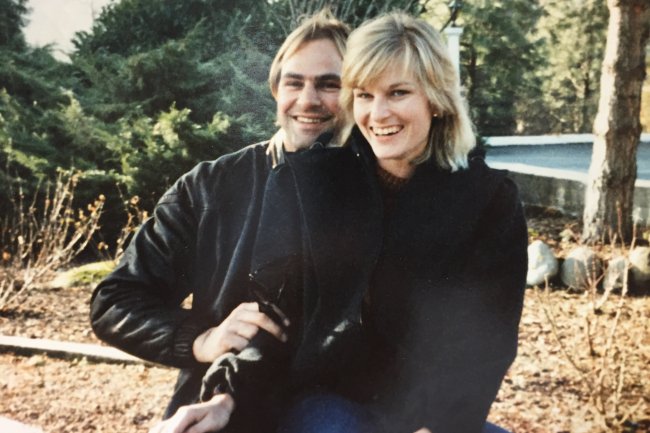 Photo courtesy of Kirk Gibson
At the same time, this isn't a man wired to just sit around. If that chance never comes, well, he'll just move on to the next items on his list.
"You know what?" he says. "I can honestly say that whatever I do, I'm going to have a good time and do it right.
"Do I miss doing what I was doing? Yes. I loved it. The camaraderie. The challenges.
"Did I have a great year even though I was diagnosed with Parkinson's? Yes. I did things I haven't done in a long time. Enjoying friends. Creating new experiences. Spending time with my family.
"I'm not the kind of guy who is going to sit there and not go out and find something fun and rewarding to do. That's just not my nature."
Why, you might even say that in a year that has been so improbable, Kirk Gibson is hell-bent on winning another battle with what some might think is the impossible.
It is October, and time to sacrifice for another cause.
You bet there are more fist pumps ahead. And so much happiness, still, along the way.
As JoAnn says: "It was the summer of finding our new normal.
http://www.healthmojo.org/2016/02/13/kirk-gibson-on-his-parkinsons-disease-fight-its-not-a-death-sentence/